History in Friulian mountains
Al Benvenuto is not just a hotel; it is an experience that embodies the best of both worlds - tradition and innovation.
Our history
Experience the perfect blend of tradition and innovation at Al Benvenuto, one of the finest hotels in Tolmezzo, Italy. This family-owned establishment has been preserving and passing on their traditions for over 50 years, making it a truly remarkable place to stay.
The Tondo family has uninterruptedly interpreted the essence of hospitality, ensuring that every guest feels welcomed and cared for. Their commitment to upholding the values of tradition is evident in every aspect of the hotel, from the warm and inviting decor to the authentic local cuisine served at their renowned restaurant.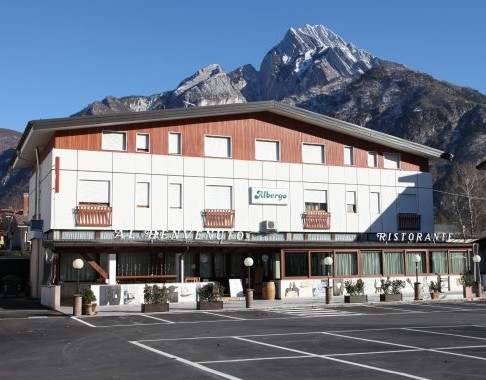 "Siamo stati 3 gg, tutto il personale sempre gentile, complimenti al cuoco, cibo buono e l'ultima sera sono arrivati porcini freschi e nel menù sono state "inserite" tagliatelle ai porcini...buone 2 volte perché inaspettate... stanza grande, pulizia al top.... Consiglio"
"Bardzo czysty i usytuawany w dobrej lokalizacji hotel. Bardzo smaczne jedzenie w restauracji. Restauracja niestety czynna od 19:00"
"Super nettes Personal. Zimmer Prime und sehr sauber. Bar und Restaurant auch empfehlenswert. Großer Parkplatz vor dem Hotel. Biker bekommen (Max 4 Plätze) einen sicheren Stellplatz hinten. Lage ist nicht hübsch aber für die Durchreise perfekt."